Article: TGC 2019 vs E6 Connect Buyer's Guide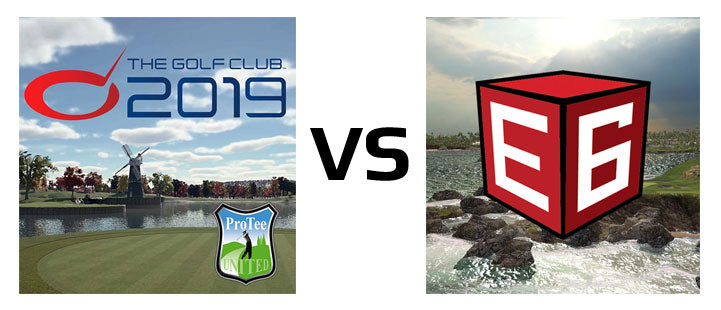 TGC 2019 vs E6 Connect Buyer's Guide
The two market leading golf simulator software packages for SkyTrak, Mevo+, X3, Uneekor QED, and many other launch monitors are TGC 2019 (The Golf Club 2019) and TruGolf's E6 Connect. Both are great systems, and sim golfers are lucky to have this choice in the market. Comparing them is sort of like comparing Ferrari and Lamborghini, and often becomes nearly a religious debate, but I'm going to try anyway.
By way of background, I have owned and used TGC since 2016 (first TGC v1, then TGC 2019), and E6 Connect since January 2020. I operate the popular SkyTrak Users, Mevo+ Users, and E6 Connect Users groups on Facebook, and I'm a SkyTrak and FlightScope Authorized Dealer, and an authorized reseller for both TGC 2019 and E6 Connect (for every launch monitor besides Trackman, Foresight, and SkyTrak, which sell sim software directly only). I also follow discussions of both sim software packages closely in all the forum and Discord groups on the internet.
The comparison below is comprised of a mix of factual data, anecdotal data, community observations, and my opinion. I have tried to be as fair and unbiased as possible, in the hopes that this compilation will help prospective buyers make the right decision for their particular needs.
I will update this article regularly as new information comes to light, and feedback is received. The last date of editing is currently June 18, 2020.
My name is Ron Hornbaker, and I'm the founder of GungHoGolf and also a software engineer. I love talking launch monitors and sim software, and can answer any pre-purchase questions you may have. If you're near Austin, you're welcome to come see these systems live in our studio. We have the best pricing you'll find on TGC 2019 or E6 Connect, plus provide free extras you won't get from other dealers. I stay very busy and cannot answer every call, especially during the winter, so shoot me us a text with quick questions at 512-861-4151 or email hello@gunghogolf.com anytime. I'm happy to schedule a call for longer discussions.
Comparison
TGC 2019
E6 Connect
Price
$895 (SkyTrak) or $949 (other LMs), lifetime license. Buy

 

here
$300/yr (basic, 27 courses plus monthly rotating course) or $600/yr (expanded, 94+ courses) subscription for SkyTrak and Mevo+ users, other LM owners will need to purchase the $1,500 base software (iOS) or $2,500 base software (PC). Premium courses available at extra cost. Buy

 

here
Availability
Digital download and provisioning available within 12 hrs
Digital download and provisioning available within 24-72 hrs
Hardware platforms supported
PC (Windows 10) only
PC (Windows 10) or iOS devices
Hardware specifications
Gaming PC (desktop or laptop) running Windows 10 with at least a GTX 1060 6GB gpu.
Gaming PC (desktop or laptop) running Windows 10 with at least a GTX 1060 6GB gpu, or late-model (fast) iPad or iPhone.
Demo available
No. You can try the $50 Steam version and play it as a PC game to see what it looks like.
Yes, go

 

here

 

to get set up with a 30-day free demo.
Recurring costs
None, except for optional upgrade fee of around $500 if/when TGC 2022 or whatever is released.
Annual subscriptions continue forever (there is never a "new" release of E6 Connect, only continuous improvements to software and course graphics). You may elect for the one-time Base software packages only, but you get no new courses over time with them, and need one of the subscriptions for online and P2P play.
Company support
Excellent support from ProTee-United (based in Amsterdam), the company who developed and supports the sim golf integration of TGC. The underlying TGC game was created by HB Studios, who cares only about their gamer users, and does not support sim golfers.
Excellent support from TruGolf (based in the US)
Frequency of updates
We've seen few updates of TGC2019 since release. This may be related to ProTee-United not being able to fix some underlying issues with the TGC game developed by HB Studios.
E6 Connect is updated by TruGolf quite frequently; see version release notes

 

here.
User Interface
Originally developed as a PC/Console game by HB Studios, it carries over a quirky interface with lots of gaming artifacts. There is a separate "interface" program for each launch monitor that must be configured and launched before launching the game. The menu system can be daunting for beginners. Avatars (which are shown only on shot replays) may be dressed up with clothing and accessories from a points-based online store.
Designed from the ground-up for sim golfers, it is intuitive and fairly simple in comparison to TGC. Since it was designed for touch interfaces, it doesn't have as many keyboard shortcuts as TGC, which leads to more tapping/clicking to get to some menu items.
Graphics Quality
Excellent, highly realistic. Ball pitch marks appear on green, divots fly in the air, balls rolling through sand leave a trail, green grids are crisp and clear and easy to read slope, lighting effects include glare and flare that is quite impressive. Many courses look similar due to limited library of plants, trees, and buildings. You can dress up your avatar and see it swing when watching shot replays. In tournament and society play, you'll see a crowded gallery.
Very, very good, but slightly behind TGC2019. No pitchmarks, divots, or ball trails through sand. Green gridlines not as crisp or easy to read. Lighting effects not as spectacular, although you can easily switch between 6 different time of day and cloud conditions, which is very cool. Each course looks quite unique, especially impressive with the architecture (clubhouse and homes along course) matching real-life. No avatars or crowds. E6 Connect will be improving its graphics over time, so this competitive gap is expected to shrink. See video review of graphics at

 

YouTube.
Audio
Nice environmental sounds (soothing wind through the trees and bird calls). There's a snarky announcer who will subtly make fun of you if you're struggling (can be turned off). Awesome realism of ball impacting objects like cup and flagstick.
Nice environmental sounds (soothing wind through the trees and bird calls). Ball impact sounds are less spectacular (for example, no sound effect when ball strikes the flagstick).
Course Selection
Over 100,000 courses, but since most were created by users on gaming consoles, most are not worth playing. There are several hundred very, very good courses for sim golfers, many created with LIDAR data for accurate slopes and elevations, and new ones getting created by real golf users frequently. Augusta is included. For a price (usually $800-$1,000), you can hire a course designer to design and add your home course (or learn how to create courses yourself). See course list

 

here.
15 with basic iOS sub, 27 with basic PC sub, 94+ with expanded PC and iOS sub. The expanded sub is getting around 4-5 new courses added each year. Since there are no user-created courses, TruGolf has designed each course with much time and care, and many famous courses are included. Pebble Beach, Spyglass Hill, The Links at Spanish Bay, and Oakmont are available at extra cost. See course lists

 

here.
Local Play (with your buddies)
Up to 4 players, can use different tees. No scramble mode. Adding guests is easy, saving them for future use is not supported.
Up to 8 players, can use different tees. Has scramble mode. Guests can have their own E6 Connect account, and adding them to rounds in the future is easy.
Offline Play (no internet)
Includes 32 courses (unchangeable) for offline play.
Offline play is easy and convenient with any course. You need internet to log in to E6 Connect initially, but then it may be closed and relaunched up to 5 or 6 times without another login, and all courses may be downloaded to your computer.
Online Event Play
Active and engaged community playing online events.
Online events are still new and the community is growing. More Clubhouses will be coming online soon, including one from GungHoGolf, so this should rapidly improve.
Peer-to-Peer Online Play
Yes
Yes
Handicap Management
Yes, after 5 rounds are completed on handicapped courses, your account will have an established handicap that will change over time according to your tournament performance.
Not yet released, but planned for future release
Ability to pause/resume a round
Yes
Yes, as of version 1.4.0.1
Hole preview / fly-by
Yes, hitting the Q key at any time flies you from wherever your ball is all the way to the green, which displays the slope grid, making it easy to check the pin position and green slope when you're planning tee shots or approach shots.
The only hole preview is a drone flyover of the entire hole, and there is no slope grid on the green when doing this. This makes it hard to plan angles and shots into greens if you're wanting to know the slope. There is a workaround using practice mode (see below), but it requires several clicks and is a clunky solution.
Environmental Effects
TGC 2019 uses its own ball flight model, no matter what LM you use, so elevation, wind, and lie penalties are always in effect. Their ball flight model is quite advanced and takes into account spin decay, so SkyTrak users will see less ball curvature than on the SkyTrak range app.
E6 Connect uses its own ball flight model only for certain LMs, but with SkyTrak and Mevo+, it uses the ball flight model from the LM. As of February 16 with the 1.7.0.2 E6 release, wind and elevation effects are now supported by SkyTrak and Mevo+, and terrain penalty effects are also activated and optional.
Ball Physics
Mostly great, but there are two annoying bugs: 1) the "big first bounce" bug happens on low-trajectory shots, where you usually see an unrealistically high first bounce, which can alter where you think the ball should have ended up, and 2) the "lie angle not considered" bug, where a low-trajectory shot hit from an uphill lie will actually strike the hill the ball is sitting on, bounce up high, and go a very short distance. This is commonly seen in 3W shots from the fairway if on an uphill slope, and with punch-outs under trees, and can be very frustrating. Spinback on greens is minimal, and many users feel like greens are too hard to hold. Set your config option to turn OFF "high spin correction", and set greens to soft and slow, to help balls stop better on greens.
Highly realistic ball physics, although many players feel like the spinback effect on greens is too much. (Set greens to Hard firmness and slower stimps to minimize the spinback effect.)
Practice Facilities
There is one main driving range, putting area, and chipping area, and some users have designed courses specifically for practice purposes (where you turn on Auto-Rewind to get unlimited mulligans). Many courses also usually have their own driving, putting, and chipping ranges. Moving the ball around is possible in the putting and chipping areas, but a little clunky in the UI, and there is no on-screen way to see your session average stats. While on a course, you can hit the R key from any ball position to turn on auto-rewind and repeat the same shot over and over (basically like unlimited mulligans).
E6 Connect really shines here, with several different driving ranges, putting areas, chipping areas, and mini-games. Session average stats are displayed, and you can set target greens on the range and see your percentages of greens hit and even what section of the green you hit.
Practice Mode
There is no "practice mode" in TGC, and to get to a certain hole on a course, you have to concede each hole leading up to it, which takes some time. You cannot drop a ball anywhere on the course and play shots from there. You can, however, turn on Auto-Rewind with the R key to take unlimited mulligans from any position you've hit to on a course.
Includes a very nice "practice mode" when playing any course, where you can drop a bucket of balls anywhere you like and hit them as long as you like, moving your position any time you like. It's also easy to play only certain holes when starting up a round on any course.
Games for kids
The only "games" in TGC2019 are some ranges that were designed with a variety of animals walking about and objects out on the range to use as targets. If animals are hit by a ball, they typically fall down, which can be fun for kids, but there is no scoring or game objectives of any kind.
E6 Connect comes with 2 mini-games for kids: Darts and Blackout, complete with timers and scoring. It also includes closest to the pin and long drive contests for all golfers.
Ghost Mode
TGCd has a cool "play against a ghost" feature, where you can pull up a previously played round by another golfer and play against their ghost for an entire round. This is a fun, easy way to get a virtual opponent for any course at any time.
None
Crowds and Gallery
Yes, in Society and Tournament play, you'll see crowded galleries, and they will have limited reactions to good and bad shots.
No
Customer Satisfaction
Highly satisfied. Only grumbling is about un-fixed ball physics bugs, and occasional disconnects with SkyTrak.
Highly satisfied. Only grumbling is about occasional P2P connectivity problems and lack of environmental, elevation and lie effects for SkyTrak and Mevo+ users.
DID THIS ARTICLE HELP YOU?
If so, please take a moment to show your appreciation by leaving a quick 5-star rating and review (optional) for us on Google Reviews: Yes, I'll do that!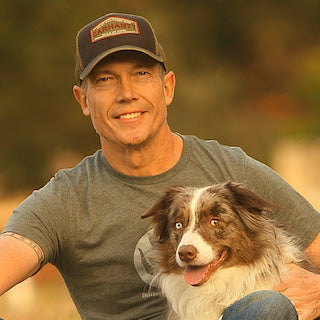 Ron Hornbaker, Founder & CEO
If you haven't yet purchased a launch monitor, or have questions with anything golf sim-related, text us at 512-222-2220 or email hello@gunghogolf.com with questions.
We know the golf sim market can be overwhelming to newcomers. We can work with any budget, and our goal is to get you set up with the best possible equipment and software at the lowest possible price. We love to talk about golf sims, and love helping folks out however we can!

All Articles
Uneekor finally released a new version of the original EYE XO this year and it is a nice upgrades from the original. With an extra infrared camera and 300% larger hitting zone, it provides a excell...
Read more