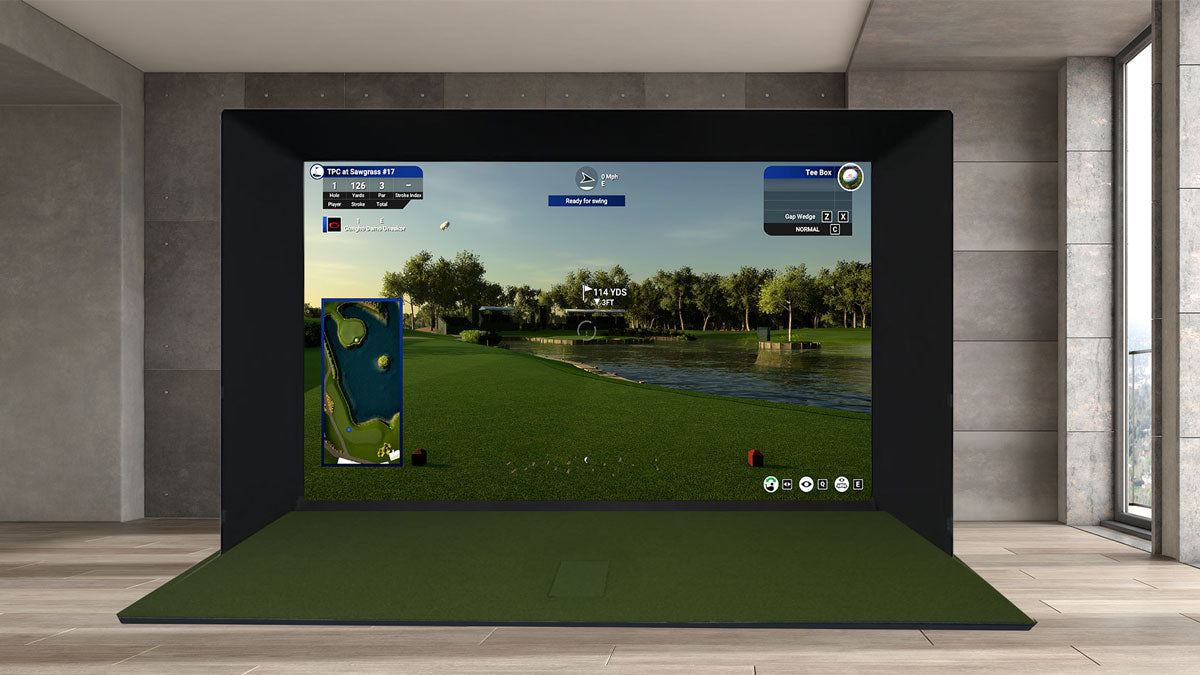 Affordable, proven golf simulator products with world-class support.
The indoor Golf Experience
We recognize that not everyone has the ideal space for a simulator, we're here to provide a solution to that challenge.
At Gungho Golf, we've dedicated extensive time and effort to crafting impeccable products. Fueled by the quest for perfection, we embarked on creating an unparalleled golf simulator setup when we couldn't find one that met our standards. The result? Our very own invention, a line of custom-made golf simulation equipment that caters to your unique needs.

What sets us apart is our commitment to excellence and innovation. Each piece of our golf sim equipment is meticulously crafted in-house, ensuring a level of quality and precision that's truly unmatched. We take pride in offering a service that's simply unavailable elsewhere, making us the go-to destination for golf enthusiasts seeking an extraordinary experience.

Discover the difference of Gungho Golf and elevate your golfing journey with equipment that's as exceptional as your game.
Based in Austin, Texas, we serve the entire U.S. with the best pricing and world-class service and support.
We love talking simulators! Give us a call or text at (512)222-2220, or send an email to hello@gunghogolf.com.
Golf Simulator Enclosures and Retractable Screens
⭐️ ⭐️ ⭐️ ⭐️ ⭐️
"I cannot say enough about Gunho Golf!  The mat that I ordered is the best of the four I've had, hands down. Customer service is incredibly helpful, very responsive, kind, upbeat.....  you name it.  I'll undoubtedly be doing business with them going forward."

Verified Buyer
-Nathan K. 
⭐️ ⭐️ ⭐️ ⭐️ ⭐️
"Trying to sort out all the options and pros and cons is impossible. Gung-ho Golf certainly provides that kind of support and guidance to help you make a good choice based on your budget."

Verified Buyer
-William C.
⭐️ ⭐️ ⭐️ ⭐️ ⭐️
"Gungho staff knows all the details about setting up a great golf simulator experience. Details matter! If you want the best golf simulator information and equipment, you need to engage with Gungho Golf."

Verified Buyer
-Ray W.
Elevate Your Game
Building a Pro-Level Golf Simulator at Home